Tonight we had our annual joint meeting with the Fuquay Varina Lions and also had 2nd VDG Barbara Beltran visit to give us a presentation on the Brighter Visions program. She also brought DG Ron Beltran along so we asked him if he would like to introduce her as the speaker and also gave him an opportunity to say a few words as well.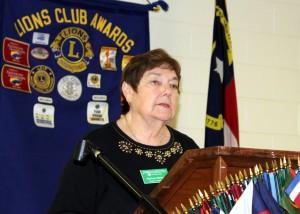 It was great to see so many Lions attend the meeting this evening – despite the threat of more bad weather (freezing rain) later in the evening. We even had a few guests and one new member application was turned in. After our usual tail twister fun, DG Ron introduced 1st VDG Barbara and her program. His introduction might have gotten him in a bit of hot water, though, when he implied that she might finally be getting good at doing this… But that is another story.
Did you know that 3,600,00 people over age 40 are visually impaired, and that another person throughout the world goes blind every 5 seconds? These are some of the issues that the Brighter Visions program seeks to address. That is why it is so vitally important to us! Brighter Visions also includes a lot of other aspects that we as Lions may have had some involvement with as well such as matching funds for glasses or eye exams, use of the Mobile Screening Unit (Vision Van), Camp Dogwood, the VIP Fishing Tournament, white canes, grants for higher education for sighted children of visually impaired parents, and even the clinical eye research done at Wake Forest, UNC and Duke. The 1.39 million Lions of Lions Clubs International are dedicated to helping people see and the Brighter Visions program is how we do that here in North Carolina. Each club helps with contributions in our governors goals ($95 per member) and money is also raised by honorariums, memorials, Woolard Partner in Service awards, and by individual and corporate contributions.