After a very successful State Fair project this year we had a wonderful evening of celebration at our 85th annual banquet! Lion Dave Delehanty presided and Lion Horace Johnson served in his usual roles as emcee and host.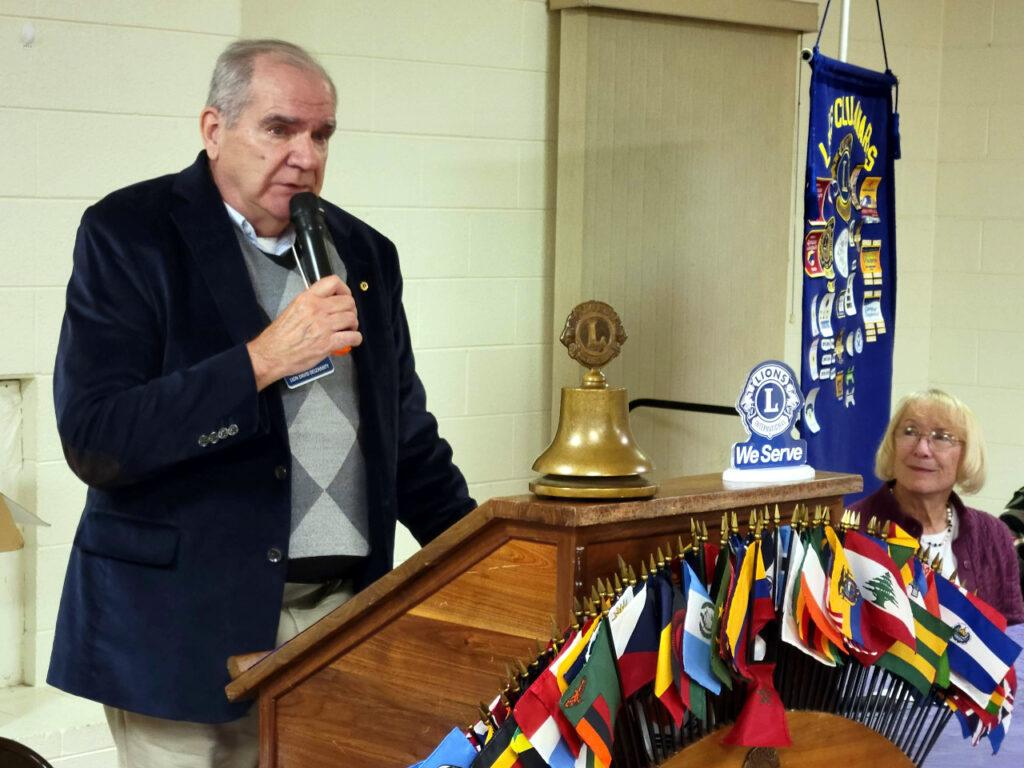 Horace began the meeting with introductions of members and guests and then proceeded to give a bit of history about the Apex Lions club. We had great help from several groups (friends of Lions) this year including scouts, CAPA and others.
As we always do, we served free meals to all blind and visually impaired people (we call the VIPs). This year we served over 80 such meals to guests visiting our booth and that doesn't even include more than 55 meals served to the students and helpers from Governor Morehead (School for the blind)!
It takes quite a bit of work to pull off an event like this. From early preparations and cleanup of the booth itself, ordering food, making sure all of the equipment is operational, lining up staff and volunteers, and cleanup afterwards. Many hours of effort go into making this a successful event. A few were singled out for their extra effort but all were appreciated to be sure!
Horace also shared some interesting stories about things that happened that not everyone is aware of. We had two new people working with us this year: Barbara and Sean. Each of them had a unique and interesting story and we are hopeful that we have the opportunity to work with them again in the future.
Jerry and Diane were back making our now extremely popular sweet potato biscuits, too. I still have dreams of people coming in and asking to try one of those "Yammie Hammies"!
We probably got a little bit more business simply because the Methodist church did not open their booth this year and our next door neighbors (Farmers Market in our old booth) also did not open this year. But we welcomed the additional customers and hope that we have gained new repeat customers for years to come.
Our District Governor challenged every club to collect dollar bill donations at our events to cure blindness. This is something that is conceivable in our lifetimes! So we put out a cooler and collected funds throughout the week. In all we raised $500 for this cause! Your generosity is very much appreciated! That money was given to the district as soon as we could get it there.
The banquet is also the time of year where we present awards to certain outstanding individuals in recognition of their work. This year we presented a Lion Ambassador award to Jerry Moore. Jerry is not actually a member of our club but he has been helping us with various things at the fair booth for many years now. We are so thankful for all of his work and hope to continue to work with him for many more years to come.
Our final award is the William Jennings Booth Lion Of The Year which is given to the member of the club whose service during the year stands above the rest. This year's recipient was Lion Bill Lemon. His dedication and effort at the Fish Fry and State Fair were invaluable. These are two of our biggest events and he is always there to help in any way he can. We appreciate his efforts and it was appropriate to recognize him in this way. Congratulations Lion Bill!