The 2021 State Fair Is ON!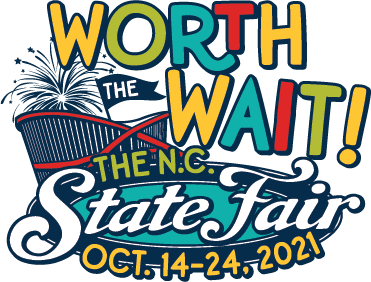 It appears we will have a State Fair and the Lions are ready. So many of our supporters have been asking if we will be there… OH YES. We have been there since 1943, how can they have a fair with the Apex Lions.
We are not sure of all the restrictions, but we plan on increasing the sanitizing schedule of the eating area. We will have a hand sanitizing station as you enter our booth. We will put up additional sneeze guards. All our counter staff, who come in contact with the food, will wear gloves.
Our building ventilation system brings in fresh outside air and two large fans constantly circulates the clean air in the dining area. We will do all within our control to make our customers feel at ease in our restaurant.
The P I I I I E man has been hard at work on his voice to provide our patron with a clear menu presentation. We do have some new menu signs on the inside to keep you updated and entertained on our extensive food line. We have added a couple new items for our customers this year. We have had requests for more kids' items so we have responded.
We will have Mac and Cheese Bowls this year for all those who have been asking for it. In addition, with will have a Mac & Cheeseburger and a Mac & Cheese Bar-B-Q Bowl as well. Talk about yummy these are going to be big hits.
Yes, we will continue to offer our Cajun dishes as well. Gumbo, Jambalaya, and Red Beans with Rice will be offered on a rotating schedule.
These are prepared in our kitchen from original Louisiana style recipes by a native Louisiana cook. These have received rave reviews the past two fairs. Of course, we will continue our Homemade Vegetable Soup, this is a true vegetarian, healthy and tasty dish. All of these come with one of our Corn Bread muffins.
We will have our Sweet Potato biscuit makers back this year for those awesome original treats, either plain or the HAMMIE's with our NC County Ham. The recipe for these was developed right in our kitchen and have become a key item on our menu.
We bake our biscuits in our kitchen very day. For sure we will have our awesome Ham and Sausage biscuits, Egg Biscuits, Cheese Biscuits, Gravy Biscuits, and Grits along with our Breakfast plates. This is a Great place to start your day off at the Fair.
Yes, we have all the other Fair food as well. Hot Dog and Foot Longs, Burgers, fries Tater Tots, Bar B Q plates and sandwiches, MRS FEARNOW'S BRUNSWICK STEW, Nacho's, chili, and cheese fries.
ALL Kinds of P I I I I E. Chocolate, Coconut, Lemone, Sweet Potato and Pecan or Pecon we have them both you know.
We look forward to seeing all our long-time customers and friend as well as making new ones.