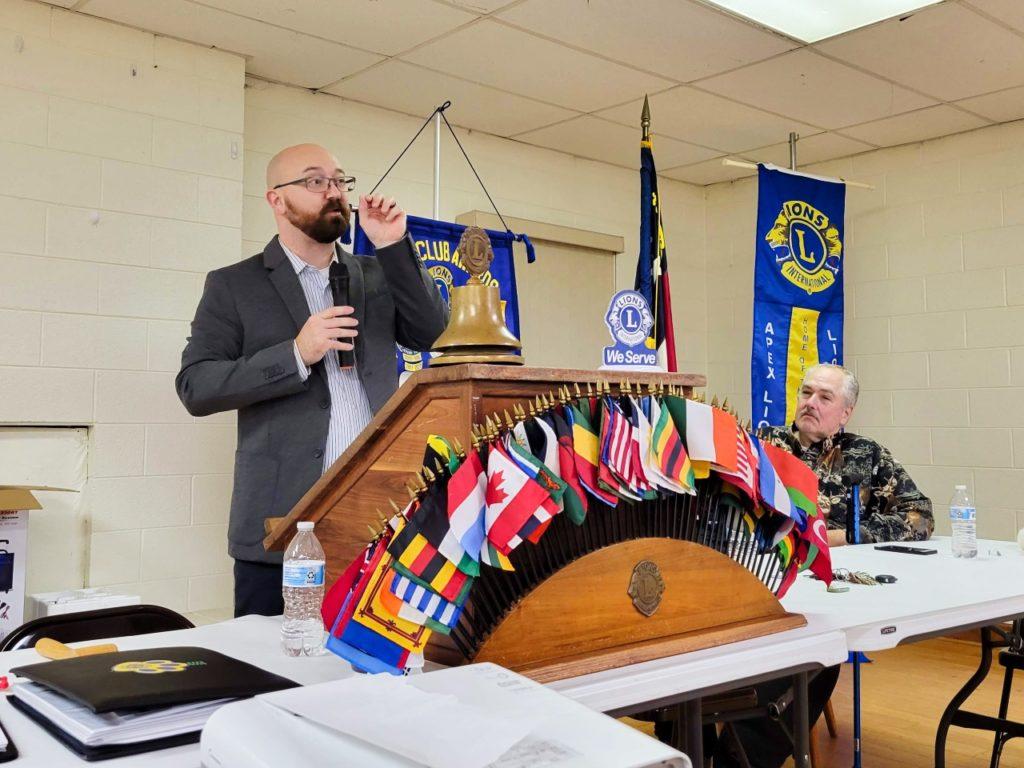 This evening our special guest speaker was Pastor Jon Utley from Pleasant Plains Baptist Church in Apex. He delivered a very encouraging Christmas message that was linked to our Lions Motto: "We Serve!" Interestingly enough, he did some research on our organization in preparation and presented us with a question that actually stumped us. I wonder how many Lions actually know the answer to this question: When was the current motto officially adopted by Lions Clubs International? Keep reading to find the answer.
As mentioned the Christmas message was centered on out motto (for more than one reason as you will see). The fundamental question asked and explored was: Why do we serve? Thee are three main reasons.
The first reason is because of God's Gift. God demonstrated his love for us (His creation) by sending the best gift ever given to humanity – His only son to be the sacrifice and payment for our sins. No gift we could ever give could come close to this one.
The second reason we serve is because of God's Grace. God showed mercy on us in that while we were yet sinners Christ died for us. This is a gift that we did not deserve but God gave it to us, anyway. That is what grace means. Furthermore, God provides us with many other blessings as well like skills and talents. His word teaches us that we must be good stewards of the blessings He provides so we are to use them not just for our own benefit but for the benefit of others as well.
The third reason we serve is for God's Glory. Because we have been blessed so much our proper response is to praise God by serving His people. God loves all people so we should too! And we should show the love of God by serving His people in every way we can.
So now you know the secret to being a Lion! We Serve! And we serve because of God's Gift, God's Grace and for God's Glory! This is such an encouragement and refreshing message. We should reflect on this thought if we ever get tired or frustrated and remember why we do what we do. I hope you have found this to be as uplifting as I have.
OK if you made it this far into the post you deserve the answer to the trivia question! The answer is: In 1954 Lions Clubs International had a contest to determine a new motto. D. A. Stevenson from Ontario was declared the winner with the simple motto: "We Serve!". About two thousand years before that, though, this same motto would have fit perfectly for the early Christian church! We wish all of you a very Merry Christmas, Happy Holidays and a Happy New Year!