Despite cool rainy weather in the morning and gusty winds in the afternoon members of the Apex Lions Club still had a successful day at this years annual Apex Peakfest. In fact the weather got so windy in the afternoon that it actually damaged our screening tent and cut short our time to provide screenings. In total 41 screening were performed with 10 referrals for a complete eye exam recommended.
Additionally several brooms were sold and numerous contacts were made with attendees and vendors to discuss Lionism.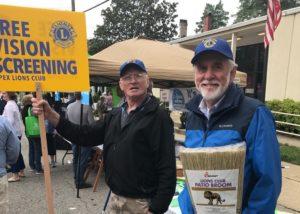 We had 12 Lions and 2 volunteers participate in this community event. These were Lions Jolene Umbenhauer, Greg Montelone, Horace Johnson, Hamilton Martin, Jim Witeck, Chris Norcross, Pat Nemmers, Sid Harrell, Joe Salvos, Don Grimes, LeeAnn Moffitt, and Carl Cromwell. The two volunteers were Sylvia Martin and Hannah Birch. Thanks to everyone who participated and all those who visited our booth. We look forward to participating in Peakfest again next year.
And if you did not get to have your screening done today look for us at the next Apex Night Out event at the end of the summer. We plan to have the tent setup and more free vision screenings that evening.