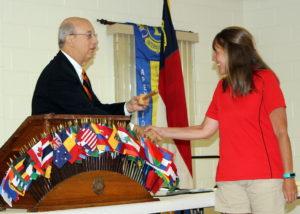 This weeks meeting featured the installation of our new board of directors for the 2017-2018 club year and the presentation of scholarships for four local high school students. Past District Governor Andy Lilliston from Fuquay Varina performed the installation ceremony. Lion Jolene gave a brief speech in anticipation of the new club year. She has already begun calling committee chairs and making sure that everything is lined up for success. Pictured above is PDG Andy handing the gavel to incoming President Lion Jolene Umbenhauer.
We also presented four scholarships this year. Pictured below are the recipients.
Tsion Coulter (Apex High). She was born in Ethiopia and lived there until age 10 when she was adopted by American parents and moved to the US. She had a 4.6 GPA and will attend UNC Chapel Hill. Her interest is in Cybersecurity and she may major in Computer Science. Tsion is also a co-founder of the Women and Minorities IT club and she was also on the cross country team.
Colt Weaver (Apex High). Colt graduated with a 4.8 GPA. Colt plans to attend NCSU in Aerospace Engineering and plans to pursue a career in the automotive industry. He is president and founder of the Apex High School hockey club.
Shivani Mahendar (Panther Creek). Shivani finished with a 4.9 GPA. She plans to attend UNC Chapel Hill and major in Biology / Human Life Sciences leading to medical school. Her interests include Ophthalmology and Pediatrics. Shivani was President and founder the Panther Creek French Honor Society and a cultural dance academy. She was also a summer counselor for Morehead Planetarium and the Museum of Life and Sciences.
Samantha Lenger (Panther Creek) graduated with a 4.5 GPA. She will attend NCSU in the fall. Samantha was the Leo club president and works 25 hrs each week at Panera Bread to help her family financially. She was also president of the Panther Creek Dance Club. Samantha believes that "good enough" will never suffice. She also loves foreign language study.
The Apex Lions Club is proud to be able to assist each of these outstanding students and we wish them tremendous success in life!