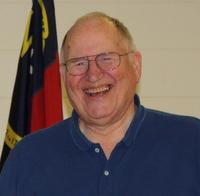 Under the leadership of its President, Larry Jordan, the Apex Lions have just completed another banner year of service to the community and to the visually impaired and deaf. The Club logged over 3300 hours of community service. This included such things as volunteering at Wake Med, transporting senior citizens to their doctor appointments, working with the Boy Scout Troop sponsored by the Club, and helping out at the USO facility at the RDU Airport. All together the Club donated over $6000 to community projects. Top of the list was money donated to the Western Wake Crisis Ministry. In addition, three Apex High Students each were awarded $1000 scholarships.
To help the visually impaired the Club collected over 1000 pairs of glasses and several hearing aids. These will be distributed to those that cannot afford to purchase them. Also to help the VIP the Club donated over $7000 to organizations that help the VIP and deaf. This includes Camp Dogwood which is a summer camp for the VIP, the Governor Morehead School for the Blind, purchasing glasses for the needy, paying for eye exams and clinical eye research. During this past Lion Year the Apex Lions were twice able to have have access to the Vision Van. This is a Van sponsored by the North Carolina Lions that goes to various locations to provide free vision screenings. The van provided screening for 90 people, the majority of whom had never had an eye exam.
For the first time in its history the Club established a Leo Club. This is a Junior Lions Club for teenagers. They are asked to serve their community the same as the parent club. The new Leo Club was formed at Panther Creek High School.
The Apex Lions would like to thank all those that came to our Fish Fry and our food booth at the NC State Fair. Without their support the Apex Lions would not have had the means to help all those that were served. With their continuing support in the new Lion Year this service can be continued.